SUPing seems to be the talk of the watersports world, but whats all the hype? ... Let us tell you!
Stand Up Paddle boarding (SUPing) has been in the lime light for several years now and its popularity only seems to be increasing thanks to brands like the Red Paddle Co! But, is it all just hype? What is it about SUPing that is such a crowd pleaser? Here at Boylos we can't get enough of it, let us tell you why!
Perfect For Almost All Conditions...
Well, the beauty of the SUP is that you can take it out pretty much all you want! Whether there's some waves breaking or, its as flat as a pancake out there, its flexible to meet the conditions you want. This is a revelation to surfers, windsurfers or other watersports fanatics because here no need to wait for the swell or the wind!
Portability...
Portability is also a huge advantage of the SUP due to the availability of inflatable versions from companies such as Red Paddle Co. Gone are the days of attaching boards to roofs or trying to squeeze them in the back seat, you can deflate them in no time and carry all your equipment in a portable Red Paddle Co. Board Bag.
Versatility...
Versatility is another selling point of paddle boarding. Boards are available not only for a gentle cruise but for racing, wave riding, windsurfing and even yoga! Perfect to suit any preference!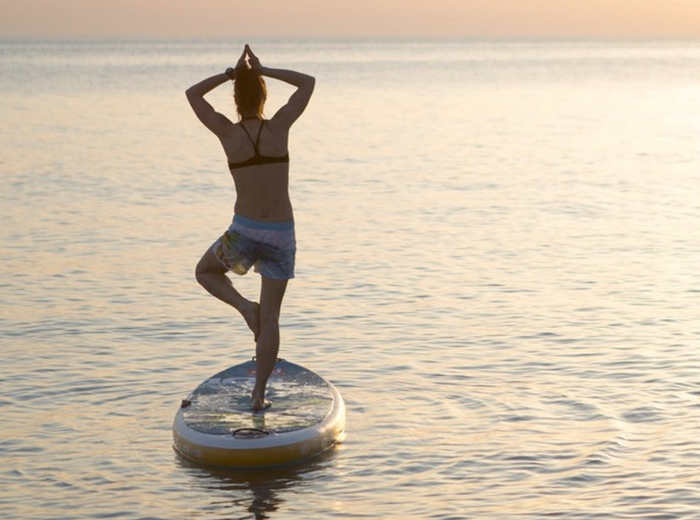 The Experience...
Experience, in my point of view, however, is what really sells SUPing to me. As a surfer, I was a little skeptical at how SUPing would compare, but I was more than pleasantly surprised. There is very little that can compare to being out on the still ocean just cruising. When the sun is shining and all you can hear is the gentle lap of water against your paddle, the peace and tranquility is serene.
Available at Boylos...
But why not find out for yourself? Here at Boylos we hold SUP lessons in Lyme Regis over the summer and boards are available to hire out. We also stock a good range of Red Paddle Co. SUPs whether you just want a board and a paddle or you want the inflatable SUP package which includes everything you need for SUPing available online or why not drop in or, give us a phone if you have more questions.