After a significant amount of research, prominent watersports equipment company RRD have introduced the Air Evo SUP collection, and here at Boylos, we are super stoked to be stocking and hosting our SUP lessons on these boards. But why all the excitement?

To quote RRD 'This new type of quality inflatable SUP boards will be sold at very affordable prices to allow all people to be able to practice this beautiful sport.' These multipurpose inflatable boards are suitable for a range of riders from the beginner to the expert.

Air Evo Package Collection- The Tech
Boards
So we are well aware that there is a certain wariness from customers when buying inflatable boards to take out on the ocean. Well, with this collection of boards, there is no need for caution and here's why.Their PVC Sublimated rail belt and band around the edge of the board insure durability and quality, eliminating any fears of punctures or centre sinking. The Air Evo collection also includes a 4mm Diecut Crocodile Skin effect Eva Pad for grip and endurance. Finally the pre laminated double layer drop stitch seals the deal on these boards making them inflatables you can rely on.

When it comes to making paddles, RRD certainly know their stuff, with technology to rival even the most popular SUP brands. The RRD Start Paddle which comes with the Air Evo Package is 3 piece and adjustable making it super portable and easy to carry. It's aluminium shaft ensures a lightweight but tough body, whilst the plastic and glass blade helps you cut through the water with speed and ease. Perhaps the best feature of this paddle is the anti twist and pin lock technology making sure that there is no twisting or movement in the handle or shaft when you're out on the water.

Pump


The Airsup HP2 Pump included in the Air Evo collection packages is also top of the range technology. No one wants to spend hours pumping their board before a session, tha'ts why the Airsup Pump includes two modes. Here is what RRD have to say about them;
'Mode 1 or HIGH CAPACITY mode, or a double action mode of 1,8 +1,8 lts where you can inflate your board from 0 up to 15 PSI of pressure .
Mode 2 or HIGH PRESSURE mode or single action mode of 1,8 lts, where you can pump up to 26 PSI of pressure. (maximum inflating pressure on your board should be 14-16 PSI).
The mode 2 is recommended only for kids or lightweight girls in order to help inflating your board up to 14-16 PSI of pressure requiring less power on your arms.'
The new colour coded pressure gauge makes it simple and easy to inflate your board correctly and the new soft plastic high tenacity inflating tube allows to you to store the pump in your carry bag without folding or breaking it.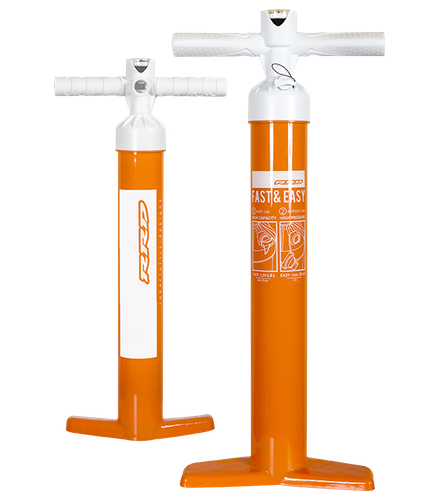 The Line Up:
The Air Evo
The Air Evo is probably the most popular and diverse of the collection. As mentioned briefly in out earlier blog, the Air Evo is a fantastic all round board. With excellent manoeuvrability and stability this board is ideal for beginners and the more experienced paddle boarder. It's versatility means it's great not only for flat water touring and cruising, but also for an epic freeride on smaller waves. Perfect for all the family to enjoy! With an 8 minute inflate and deflate turn around time, meaning theres no need to miss your session! The Air Evo is available in 3 sizes: 10'2 x 33"x 4 3/4 for lightweight women and kids, 10'4 x 34" x 4 3/4" for average sized men and women or 10'4" x 34"x6" for the heavier or bulkier rider.
Other features of the board include a single fin US Box and Elastic rope so your can take your belongings with you with the confidence they're secure.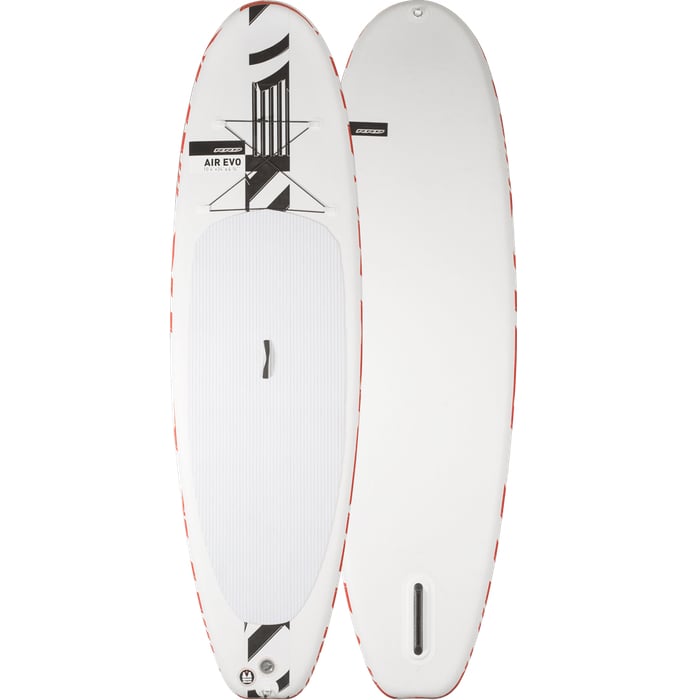 Air Evo Convertible Boards
 The versatility of these boards will not disappoint! They take the AirKid, Air Evo and Air Tourer boards and equip them with a mast foot insert for windsurfing use. This means whether the wind is up or down you can go out whatever the conditions! Their generous width and thickness make them easy to uphaul a sail.
The Air Evo Tourer Convertible is the perfect touring and cruising board, available in two sizes, this board helps you paddle long distances effortlessly. The Air Evo Convertible combines all the best features of the Air Evo with the versatility of being able to attach a rig and sail whenever the wind picks up. The Airkid Evo Convertible is the smallest and lightest of the collection perfect for those up and coming kids who love to sup and windsurf.
These boards truly meet the needs of the whole family, while their SDB and Thermo plastic belt again make them 50% stiffer than a normal inflatable SUP. This board also comes in 4 different sizes. Check out the specs below.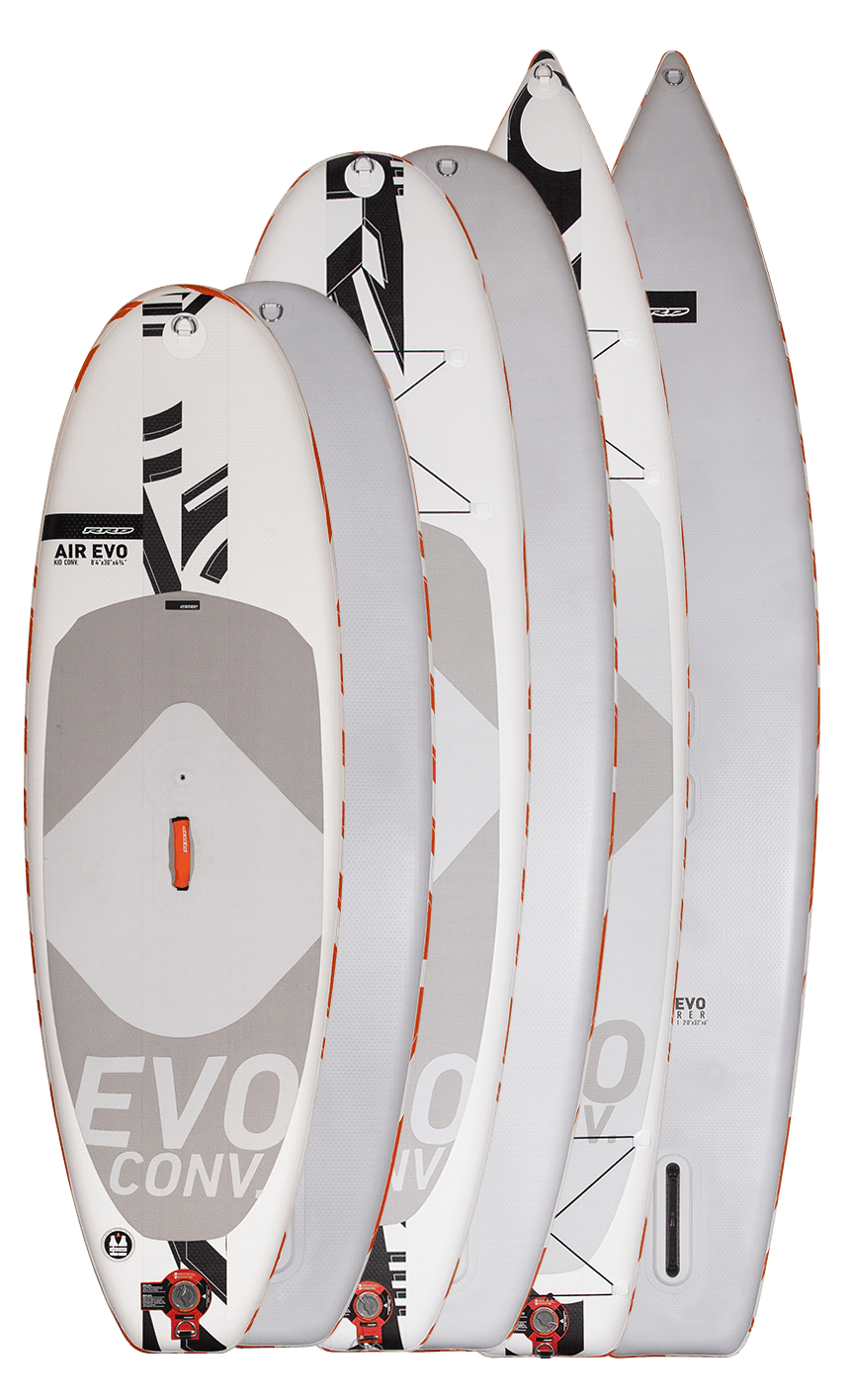 | AIRSUP CONVERTIBLE V4 | VOLUME (LTS) | SIZE (INCH.) | FINS |
| --- | --- | --- | --- |
| AIRKID CONV 8'4" V4 | 110 | 8'4"X 30"X 4 3/4″ | 1X CLICK ON REAR FIN 20 CMS – 1X CLICK ON CENTER FIN 30 CMS |
| AIRSUP CONV 10'4" V4 | 275 | 10'4"X 34"X6″ | 1X CLICK ON REAR FIN 20 CMS – 1X CLICK ON CENTER FIN 30 CMS |
| AIRTOURER CONV 12' X 32" V4 | 320 | 12'0"X 32"X6″ | 1X CLICK ON REAR FIN 20 CMS – 1X CLICK ON CENTER FIN 30 CMS |
| AIRTOURER CONV 12' X 34" V4 | 340 | 12'0"X 34"X6″ | 1X CLICK ON REAR FIN 20 CMS – 1X CLICK ON CENTER FIN 30 CMS |
Included in the Package
So there's the line up but what's included? Each board comes as a package deal which includes the following:
-Board
-Pump
-3 Piece Start Paddle
-Bag
-Repair Kit
-SUP Leash
To sweeten the deal, when you buy the SUP Sail Rig with your Evo Convertible Board, we'll throw in a free life jacket!
Phenomenal Price!
Finally and most importantly, we are offering these boards at a phenomenal price! We want you to have the chance to enjoy paddle boarding without breaking the bank. That's why we've chosen the Air Evo collection. These top of the range boards are not only high quality but very reasonably priced! So visit Boylos in store or online today and check out the Air Evo collection! Or come on one of our SUP lessons in Lyme Regis and try one out for yourself!