Here at Boylos we are super stoked to be stocking the complete RRD watersports range, from windsurf boards, to kites and stand up paddle boards. Not only are RRD at the forefront of watersports technology, but their equipment is high quality and designed not only to perform, but to last.
Roberto Ricci Designs- The Brand Behind the Boards
Established in Italy in the 1980s RRD began with professional windsurfer Roberto Ricci himself, designing and shaping windsurf boards. From it's humble beginnings it has grown into the international company it is today, producing a huge range of equipment from stand up paddle boards to windsurf boards and sails.
RRD Ethos
The ethos behind RRD has always been to combine homemade Italian craftsmanship with the Hawaiian roots of shaping with aesthetic design. To create products that look fantastic, whilst providing optimum performance and incorporating the essence of their Italian heritage.
One aspect of this company, which is different from some of the other known brands, is their conscious decision not to constantly produce brand new boards but to always be improving and updating their current lines so they are always at the forefront of whats new.
Our Favourite Products
These are just some of the reasons why we love RRD. Their dedication to creating cutting edge equipment whilst keeping their heritage roots is hugely unique. But why take our word for it? Why not find out for yourself? The following products are some of our favourites from RRD and it's not difficult to see why...
Air Evo 10'4 SUP Package - £599 (RRP £799)
This fantastic package deal is everything you need to get SUPing and, exclusively here at Boylos, we are offering it at a whopping £200 discount! This versatile inflatable board is ideal for all abilities. Whether a newbie to paddle boarding or a total pro, the Air Evo won't disappoint! It's not only awesome as a freeride board but is ideal for touring and cruising on flat waters as well as a bit of fun on smaller waves. An awesome board for all the family to enjoy!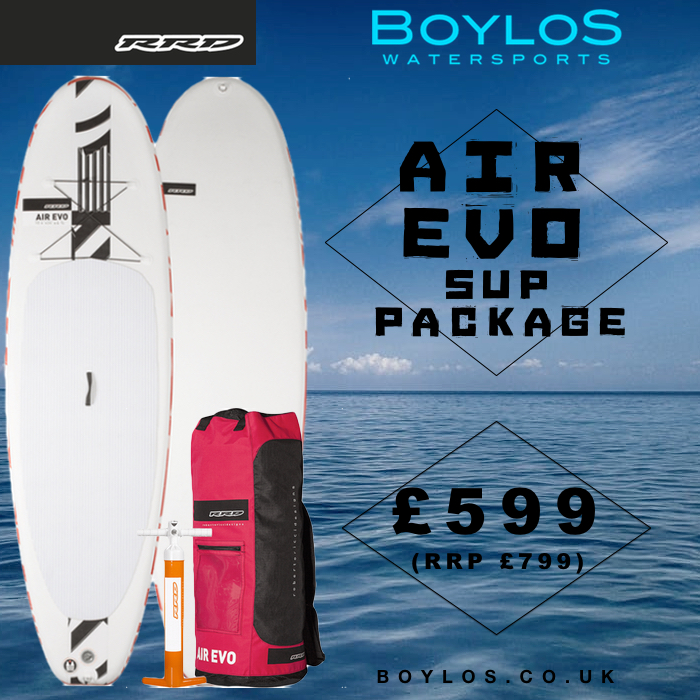 With approximately an 8 minute turn around time it's super quick to inflate and deflate, so there is no hanging around or missing the action. Because of it's inflatable nature, gone are the days are trying to fix a big solid board to the roof of your vehicle! It's super portable and fits easily into a bag you can just throw in your boot or take on a plane.
This package comes with all you need to get started including a pump, three piece paddle, single fin, bag and repair kit. Available online and in store now.


Bliss V5 Kiteboard- £583- £668
Another of our favourite products from RRD is the Bliss V5 Kiteboard, available in Bliss Wood or LTD. This is a progressive freeride/freestyle board perfect for an assortment of conditions. It's overwhelming popularity makes it one of RRD's most sought after twin tip boards, and it's not difficult to see why.
It's LTD version is constructed from Biaxial Carbon layers on the top and bottom of the board with a special mix of Paulownia and lighter weight wood and CNC shaped core. This makes it 20% lighter, thinner and more responsive. The wood version of the board has deeper bottom channels and the thin, slightly rounded ABS sidewalls enable this board to carve with style through rougher conditions. This board not only provides security but also strength and durability. The awesome Bliss Kiss is also constructed from wood with a funky pink/purple finish.
These are just a select couple from a huge list of our RRD favourites. In truth, you cannot go wrong with their products and that's why we are such fans! Have a look on our website for a full range of different equipment and accessories with more being uploaded every week!