You asked, we delivered! After much demand, Boylos have started stocking Swim Secure products. From Tow floats to dry bags to high vis swim caps we've got it!
If you have the question 'what on earth is a tow float?' running through your mind at this moment, worry no further. This blog has all you need to know on all our open water swimming equipment and how to stay safe and seen out in the water.

Swim Secure is the largest selling open water dry bag and tow floats supplier in the UK. Partnered with the Royal Life Saving Specialists, their simple mission is to equip swimmers of all ages to swim safely in open water. We were even impressed with their up to date and informative website which even included an open water safety guide.


Here in Lyme Regis, we are a hotspot for sea swimmers. Our beautiful open harbour provides shelter and space for sea swimmers and is home to our very own sea swimming club. We noticed a lot of swimmers in the water began appearing with high visibility floats that would tow behind them as they swam, and soon enough, we had a large number of people inquiring as to whether we would stock them.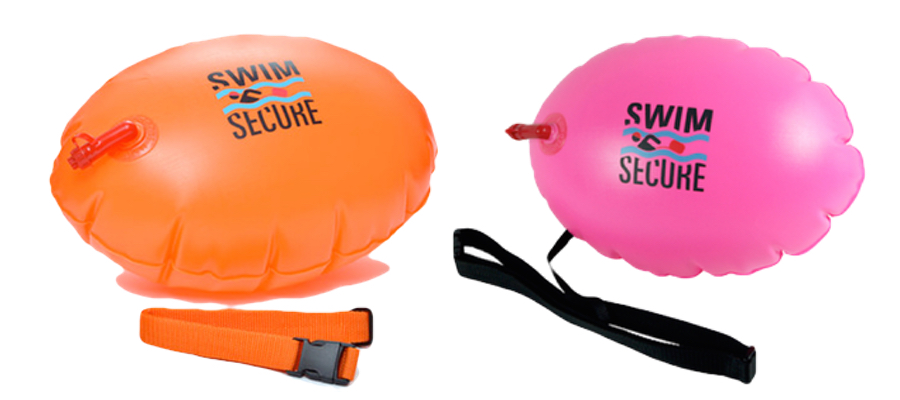 We have several versions of the Tow Float. First is the basic model available in pink and orange. TIP: We have been advised by our local swimmers the pink has the best visibility in our harbour as the orange ones have the potential to be mistaken for buoys.
The Hydration Float is a Tow Float with a difference. This clever piece of equipment has a snug pocket to fit a water bottle. Ideal for long training sessions in the water.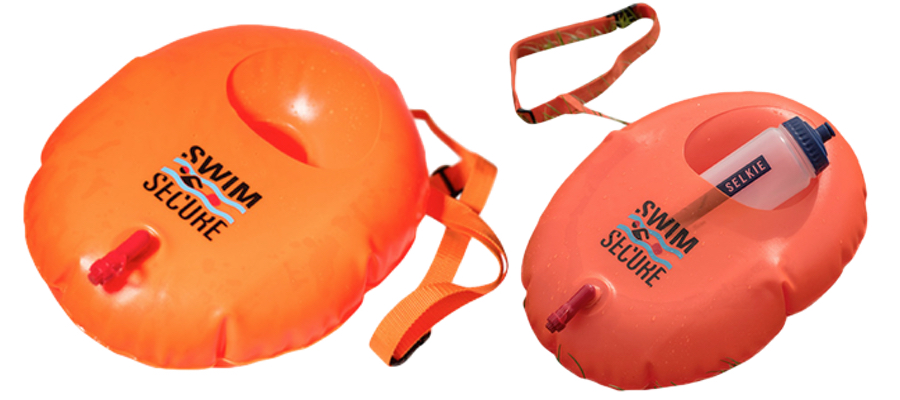 Finally the Tow Donut has the appearance of a donut with a clever little dry bag section in the centre so you can take your valuables on your swim whilst staying safe and visible.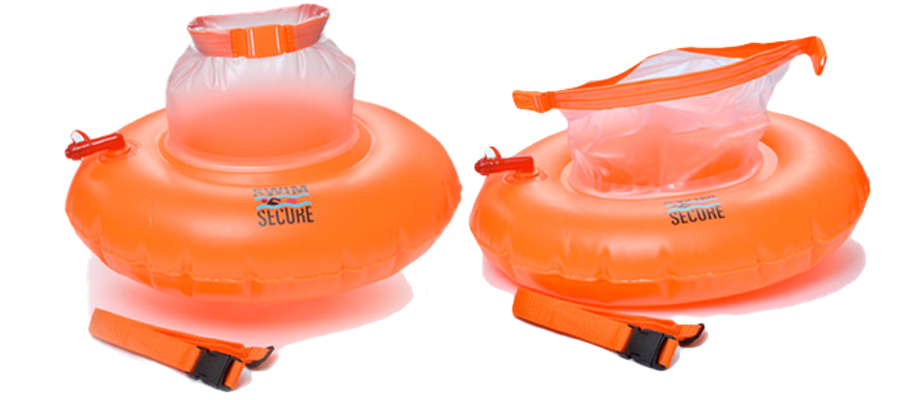 As you may be beginning to notice, Swim Secure's products are that little bit different from standard, and their dry bags are no different. Not only do their dry bags keep your valuables safe and dry but they also double as tow floats so you can take your bits and pieces on your swim!They're even available in two sizes so you can find the best fit for you.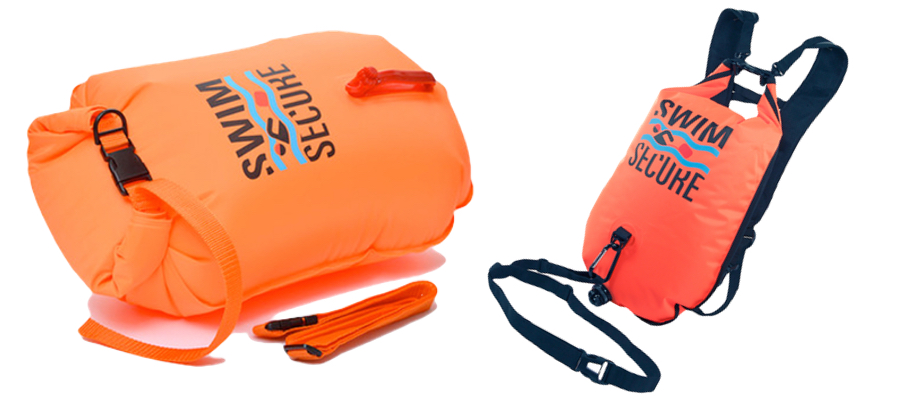 The Wild Swim Bag takes it that bit further. With removable shoulder straps, head off on an adventure hike and go for a swim in a remote mountain tarn. This dry bag and tow float combo is all about the adventure, roaming and road trips!

What we love about Swim Secure is that they not only have the big things covered, but also the little, with fantastic attention to detail. One accessory we love is the bubble swim caps. Available in four bright colours these ensure visibility out on the water. We now also stock their safety whistle, for that little extra for peace of mind.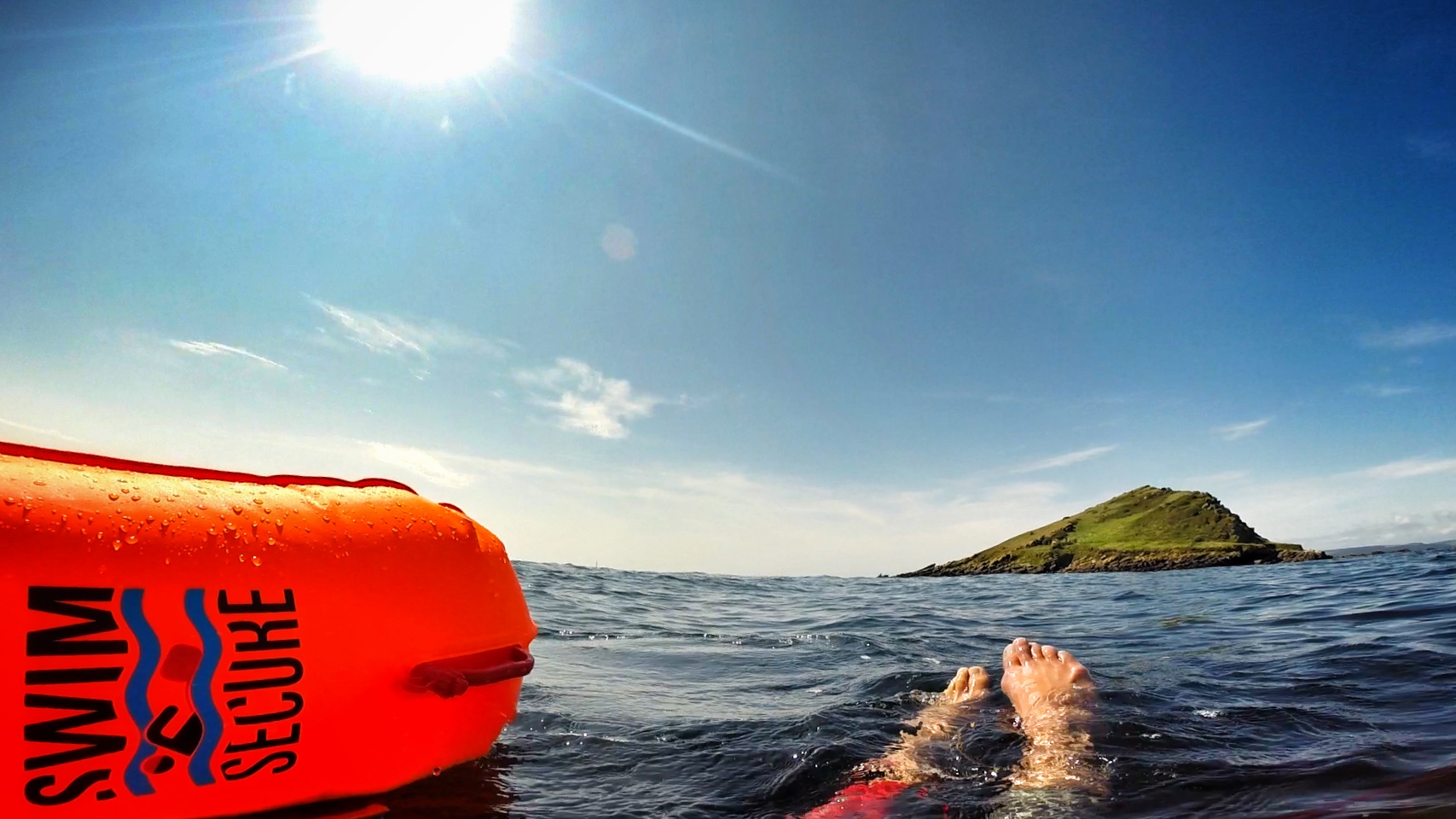 So visit us in store or online and check out our extensive range of swim secure products for staying safe and seen out in the water. They're also the perfect gift for your swimming enthusiast friends or family.